LaQuedra Edwards experienced the day of her life in early April. She couldn't even imagine that she would be a scratch card winner. The Canadian decided to go buy a scratch card and test her luck. She had set her sights on a scratch card, but accidentally bought another one. She bought the ticket at a lottery machine in the store, but she clicked on the wrong button. A tremendous mistake, as Edwards won the top prize of $10 million, or nine million euros. The winner made the mistake because a person bumped into her when she was about to press the button.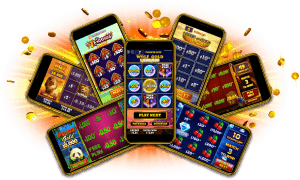 Grand Prize on the Scratch Card
The winner told local media that a man ran into her in the store. "He didn't say anything and just walked out the door. I was pretty annoyed at first." After the wrong scratch card came out of the machine, Edwards became angry. However, that changed with lightning speed, as she had won the top prize of 10 million euros on the 'wrong' scratch card.
"I'm still in shock, I really didn't believe it at first and just drove home. I checked it several times. But it was really right after all. All I could think was, 'I'm rich.'" Edwards will use the won money to look for a new home and start her own non-profit. The owner of the supermarket where the winning ticket was purchased will also be delighted and will receive a sum of 50,000 euros from the winner.
Wrong Prize-Winning Scratch Cards
It is not the first time that a Canadian won a huge prize with a "wrong" scratch card. In the summer of 2020, the same thing happened to a 57-year-old man from Detroit. The man bought a scratch card at a small store, but received a completely different scratch card. The man asked for a $20.00 ticket, but received a $10.00 scratch-off ticket. It all worked out, as the Canadian won a prize of 1.1 million euros with the ticket in question.
Editor's Top Casino Picks This Week
Visit one of our top rated casinos and get your welcome bonus offer. Play now and win big!