Roulette is an iconic casino game that, along with poker, is played at any casino all over the world. The game of Roulette has a long and interesting history which starts in the 18th century in France, when Blaise Pascal (mathematician, physicist and inventor) introduced a mechanical version of it, originally called "Pascal's wheel". With its relative simplicity and great chance of winning big, even without gambling experience, Roulette has stood the test of time to become one of the most well-known casino games.
Nowadays, some established variations are popular in different parts of the world – American Roulette, European Roulette, and French Roulette. All three games have different designations for where you can place your bets, but all of them have one thing in common – you can only bet when the ball is spinning around inside the wheel and about to settle into one slot or another.
Although most players would probably be confident in their ability to play this fabulous game, it is always a good idea to fully understand the differences between types of Roulette and how gameplay rules vary according to which variant you want to try. As you will see, there is a lot more to it than just red or black, odd or even and waiting for your lucky number.
Rules and Differences in Roulette Variations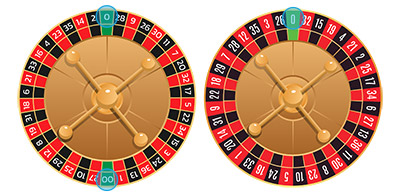 The player bets on the outcome of a ball spinning inside a wheel with 37 or 38 numbered slots, colored in red, black, and green. And here comes the first difference in variations:
In European Roulette, the wheel has the numbers from 1 to 36 plus 0.
In American Roulette, the wheel has the numbers from 1 to 36 plus 0 and 00.
You can place your bets, by putting chips on a section of the table layout, before or after the ball is thrown at the spinning wheel, but always before you hear/see the announcement "bets are closed".
Next, come the differences in table layouts for the three variants.
American Roulette Table Layout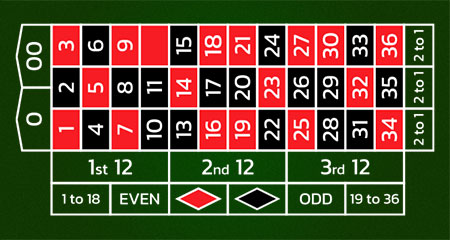 European Roulette Table Layout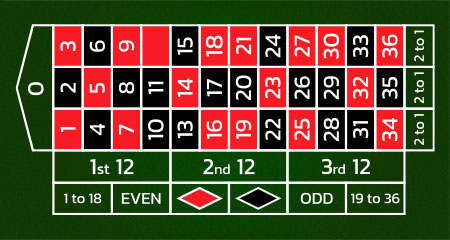 In the European variant, the double zero from the American one is gone.
French Roulette Table Layout
The French version shares the same wheel with the European one, but the table looks quite different. Wording is in French and the dozen fields are not where one expects them to be. Instead, they are moved at the end of the numbers grid and titled P (Première) – 1st 12, M (Moyenne) – 2nd 12, and D (Dernière) – 3rd 12. Later in the article we'll cover the racetrack which is an amazing addition to the main table layout.
Specifics of French Roulette
"La Partage" Rule
This one is the only difference between French and European Roulette and players like it a lot. The rule states that if you place an even money bet (for example red or black, odd or even, 1-18 or 19-36) and if the ball lands in zero, you get back half the amount of your bet. This rule significantly reduces the house edge.
"En Prison" Rule
This is a variation of the previous rule. As the name suggests your wager remains locked until the next spin, which provides you with the chance of getting your full bet amount back. If the ball lands in zero, or the number you've bet on, on the next spin you get 100% back. Else you lose it all.
Note that some American casinos would apply the same rule to the double zero.
Types of Roulette Bets
For the novice roulette player, things usually seem rather simple – they'd bet on the color (red or black), on a single number or a combination of a couple numbers, and odd or even. However, truth is there are numerous betting options that can be broken down into the following categories:
Outside bets – these are bets placed directly on the numbers section of the table.
Inside bets – these are bets placed directly on the numbers section of the table.
Call bets – also called "announced bets" are bets which relate to specific sections of the wheel.
Read on to learn more about each type of bet as we break down all three groups above.
Outside bets
| | | | | |
| --- | --- | --- | --- | --- |
| Bet Type | Description | Payout | Odds American | Odds European |
| Red / Black | You bet on the color – red or black | 1:1 | 47.37% | 48.65% |
| Odd / Even | You bet on the type of number – odd or even | 1:1 | 47.37% | 48.65% |
| High / Low | You bet on two groups of numbers – from 1 to 18 or from 19 to 36 | 1:1 | 47.37% | 48.65% |
| Column | You bet on a column of the table layout | 2:1 | 31.6% | 32.4% |
| Dozen | You bet on a groups of twelve numbers – 1 to 12, 13 to 24, 25 to 36 | 2:1 | 31.6% | 32.4% |
Inside bets
| | | | | |
| --- | --- | --- | --- | --- |
| Bet Type | Description | Payout | Odds American | Odds European |
| Straight Up | You bet on a single number | 35:1 | 2.6% | 2.7% |
| Split | You bet on two neighbouring numbers | 17:1 | 5.3% | 5.4% |
| Street | You bet on three numbers lined up horizontally | 11:1 | 7.9% | 8.1% |
| Corner | Same as split, but you bet on four numbers that form a square | 8:1 | 10.5% | 10.8% |
| Line | Same as street, but you cover six numbers in two adjacent rows | 6:1 | 15.8% | 16.2% |
| Basket | You bet only on the numbers 0,1,2,3 | 9:1 | – | 10.81% |
Call bets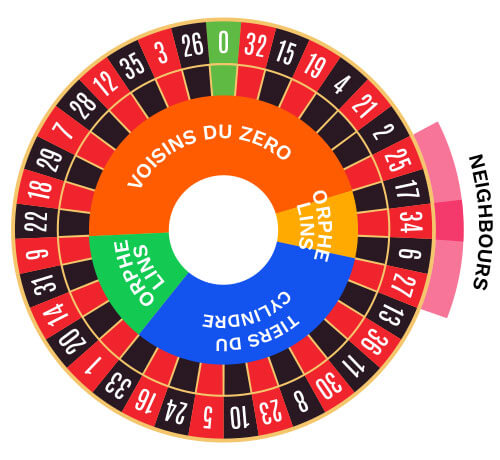 These also go by the name "French Bets" as they are usually exclusive to The European and French variants. However, some casinos may use them in American roulette. These present great advantage to the player. If you can't get to a land-based casino that offers French roulette, any trusted online casino is always an option.
| | | | |
| --- | --- | --- | --- |
| Bet Type | Description | Payout | Odds |
| Voisins du Zero | This bet covers to the 17 numbers which are close to 0. That is from 22 to 25 included. | 17:1 | 45.9% |
| Jeu Zero | Translates to "Zero Game" and covers a smaller portion of the numbers from the previous bet – in this case the numbers from 12 to 15 included. | 17:1 | 18.9% |
| Tiers du Cylindre | In this bet 12 numbers on the wheel opposite to Voisins du Zero are covered, making it a "third of the wheel" which is what Tiers du Cylindre translates to. | 17:1 | 32.4% |
| Orphelins | This one covers the 8 numbers on the wheel which remain "orphaned" after the previous two bets. | 17:1 | 21.6% |
| Neighbours | A straight bet on a single number along with four straight bets on the surrounding (two on each side) four numbers on the wheel. | – | 13.5% |
| Final | Places straight bets on numbers which have a given digit at the end. For example if you choose 3 the numbers covered would be 3,13,23,33. | – | 10.8%/8.1% |
Racetrack

Since the bets we just went through can seem a bit confusing to some, European & French roulette tables have a nice trick to make it easier for players – it is called "Racetrack". The feature is popular among roulette players who want to make complex bets as it provides a simple way of doing so.
The racetrack gives you the opportunity to place all the different types of call bets in a flash. If you're playing online roulette, the software would do all the hard work for you placing your bets in the main area using the individual chip value.
House Edge
| | |
| --- | --- |
| Roulette Variant | House Edge |
| European Roulette | 2.7% |
| French Roulette | 2.7% / 1.35% |
| American Roulette | 5.26% |
As you can see in the comparison table French and European roulette have way better odds than the American version, which features a single 00 presenting a higher chance for loss. it is important to mention that on a French table the casino's advantage can vary and depends largely on the type of bet you want to place. For bets which are not an even-money type, the house edge is 2.7%, but for even-money bets, it would go down to 1.35%.
Editor's Top Game Picks This Week
Every week we choose the best casino games with the best return to player rate. Play now and win big!