Playing slots can be a lot of fun, but it's important to remember that they're mostly a game of chance. Therefore, implementing a good slot strategy can greatly increase your chances of winning and guarantee your bankroll doesn't go bust in the blink of an eye.
Slots are one of the most popular casino games for a reason – they're easy to play and offer the potential for big wins. But while anyone can get lucky and hit a jackpot, there are some strategies you can use to maximise your chances of winning when playing slots.
So if you're ready to up your slot game, read on for our top tips!
Pick your slot game after a good research
Don't rush into playing the first thing you see. If you're in the mood to try your luck at a slot game, research is key. With a huge range of games available, it's important to understand the differences between them.
Slot games are an increasingly popular way to win big money, but paying attention to the right details can make all the difference. Before you handicap any type of slot, read reviews first. Evaluate how other users felt about the game and take into consideration any feedback that was given regarding usability, rewards, and enjoyment as it will assist in making a more informed decision.
There are various slot themes with hundreds of titles offered by game providers. Once you pick a visual line that you like, it's time look at the details of its most popular titles. Look at the special features – bonuses, free spins and house edge. Don't forget to consider volatility too. High volatility can bring bigger wins, but you'll have to be patient and invest in more spins.
Once you've weighed up your options and compared all of the features within those different games, you can feel more confident that you've made the right choice!
Learn gameplay details and specifics and practice in free play mode
Playing a game efficiently and effectively starts with knowing gameplay details and specifics. To really hit the ground running you need to know the slot's paytable. It is your guide to understanding potential payouts for each symbol combination. Symbols like wilds, scatters, and more can provide bigger payouts or special features. Learning how they interact with the rest of the symbols is essential to successful gameplay.
There is no better way to get familiar with symbols, understand what triggers bonus rounds and figure out how different symbols trigger payouts than through hands-on playing experience. That's where the slot's demo mode comes into play. The free to play option gives you the opportunity to try out the game and learn about all the features a slot has to offer, without spending real money. Maxing out your knowledge can help you feel more comfortable regardless of if you're eager for a night of risk-free entertainment or eyeing bigger profits from real money play. So go ahead and practice in free play mode for as long as it takes to equip yourself with everything you need!
Find the balance between house edge and volatility
When it comes to the fundamental maths behind casino gaming, RTP (return to player) is always a buzzword. This RTP calculation gives us our house edge – an indication of how much the casino gets out of the game. However, where RTP suggests a certainly expected payback in terms of money, this can sometimes be misleading; when measuring RTP we also need to consider volatility.
Volatility tells you how often big wins come around. Having a low RTP and high volatility means that although you don't win often, when you do, it will usually be large amounts. On the other hand, having a higher RTP with low volatility ensures that your wins will trickle in steadily with minimal risk. Finding the perfect blend of RTP and volatility for your gaming needs requires a bit of trial-and-error, but once you figure out what works best for you – there's no better feeling!
Take advantage of bonuses and free spins
If you want a chance at more – and often bigger – prizes without having to risk any extra money, you should be making the most out of the bonus features and free spins your favourite slot has to offer. Doing so can help you boost your winnings by giving you additional opportunities to win big! Plus, some of these bonuses may even come with stacked multipliers that could dramatically increase the size of your payout.
For example, in Money Train 3, instead of relying on your luck, you can simply buy into the bonus level:

With four options in place, the slot's Money Cart feature is guaranteed to fit any player's budget. Once activated, and depending on your choice, it can result in you scoring some nice gains.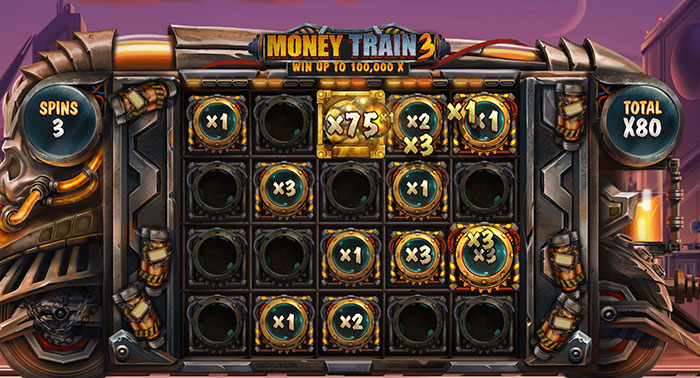 Be sure to check out our review of this amazing slot game for more detailed info and tips on this amazing slot title.
Risk management is crucial – know your limit
If you're new to the world of gambling, risk management is a crucial concept. To stay in the game, budget wisely and know your limit. Controlling your spending is a must—it's not only good practice but it'll help you avoid huge losses. Knowing your budget and sticking to a constant bet size helps ensure that you won't evaporate your bankroll overnight and suffer from one huge loss. Don't forget, managing your budget correctly is a really important element when it comes to enjoying slots. Disregard this part and your budget could evaporate far faster than you ever expected!
Stay away from slots with excessive jackpots
When it comes to slots, it might be a good idea to resist the temptation of playing progressive jackpots that promise a huge reward. Don't get your hopes up too high because these games can often prove a false promise. It might seem like a surefire way to take home the jackpot but don't let yourself fall into the trap! A lot of times the odds aren't in your favour and you could end up spending money, which could have been multiplied and not evaporated.
The bottom line
Everyone loves slot machines, but not everyone implements a slot strategy to make sure they're getting the most out of every spin. It's all about understanding the slot odds and incorporating all the information available from slot reviews into your gameplay to gain knowledge that gives you an edge. With a good slot strategy in place, you may be able to improve the odds and even increase winnings in the long run!
Now that you know how to beat the slots, all there's left to do is put your newfound knowledge into practice. Luckily for you, we've got plenty of slot reviews for you to choose from. So what are you waiting for? Start reading and get spinning!
Editor's Top Game Picks This Week
Every week we choose the best casino games with the best return to player rate. Play now and win big!